In its 2015/16 "Delivering our purpose" report communications services company BT communicates clearly and concisely around the UN Sustainable Development Goals (SDGs, also known as the Global Goals) and on the steps it is taking to integrate the goals into its business.
The company discloses that it has conducted research into where the ICT industry can have the most impact on the SDG agenda while also mapping its own sustainability ambitions against the goals to see where it is already aligned. The results of these two initiatives are then clearly outlined in an accessible and comprehensive infographic succinctly demonstrating the work BT does to use the power of communications to make a better world.
The narrative of the report also points to a broader research piece regarding potential impacts on BT's business if the Global Goals are not achieved by 2030 in the markets in which it operates.
BT has also integrated the Global Goals into its report's GRI (Global Reporting Initiative) Sustainability Reporting Framework index, utilizing tools available as part of the SDG Compass, with a view to enhancing transparency.
This integrated approach shows that the company is dedicating resources to understanding and interpreting the SDG agenda with a view to determining where BT is currently contributing and how it can continue to have a meaningful impact on development.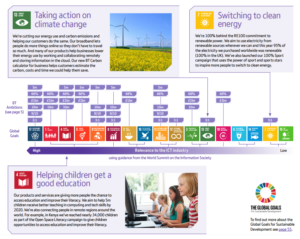 More information: