Through its own 2025 Sustainability Goals, Dow is collaborating with like-minded partners with a view to incorporating the value of nature and society into all of its business decisions and generally advancing the well-being of humanity.
These 2025 Sustainability Goals go beyond business as usual, targeting outcomes such as Delivering Breakthrough Innovation and Advancing a Circular Economy.
Dow has clearly demonstrated how its pre-existing 2025 Goals are well aligned with the SDGs and is an interesting case study to note when considering how companies can lead transformative change through innovative strategies while aligning themselves with the global development agenda that the SDGs represent.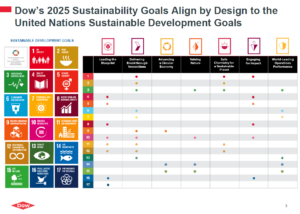 More information:
Dow Presentation on Refining the Role of Business in Society
Redefining the Role of Business to Achieve UN Sustainable Development Goals