SDGs as a guiding principle to feed into strategy development
Fujitsu
The Fujitsu Group has been focusing on providing technology and creating innovation with a view to have a lasting impact on society. We recognize the SDGs as a guiding principle for our ambition to contribute to achieving a "human centric intelligent society."
The SDGs are embedded in our growth strategy of "Connected Services" and point us to new business opportunities through ventures that work to resolve social issues. They represent societal expectations and needs and allow us to contribute to a globally relevant agenda. We leverage the common language and framework that the SDGs provide for wide-ranging concerted initiatives with, for example, international agencies and governments, private companies, multi-stakeholder partners such as WBCSD and non-governmental organizations. We believe that such a collaborative approach enables us to create and grow social value at scale.
We actively use the SDGs as a tool in our management strategy for achieving sustainable growth. As a first step and as part of our core business using digital technologies, we have identified four strategic SDGs where we can amplify our influence and deliver greatest value. This includes: SDG 2 – Zero Hunger, SDG 3 – Good Health and Well-being, SDG 9 – Industry, Innovation and Infrastructure, SDG 11 – Sustainable Cities and Communities.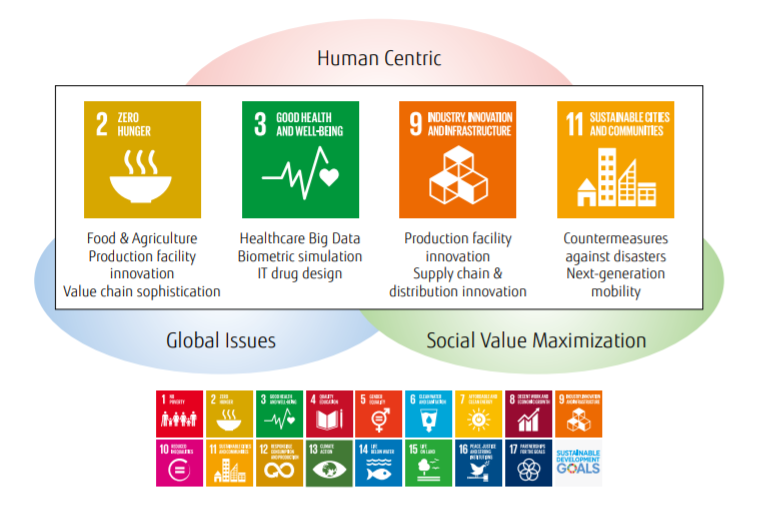 Effective delivery on these goals requires meaningful innovation, and therefore we promote company-wide projects that cut through all levels and functions, be that corporate executives, sales and other business divisions, as well as working with our innovation and research companies, Fujitsu Laboratories and the Fujitsu Research Institute.
Through company-wide projects, we aim to verify and promote the resolution of social issues. While the corporate division provides guidance with respect to sustainability and social responsibility, our sales and business experts offer insight in terms of business value. This ensure that the solutions we create offer both social and economic value.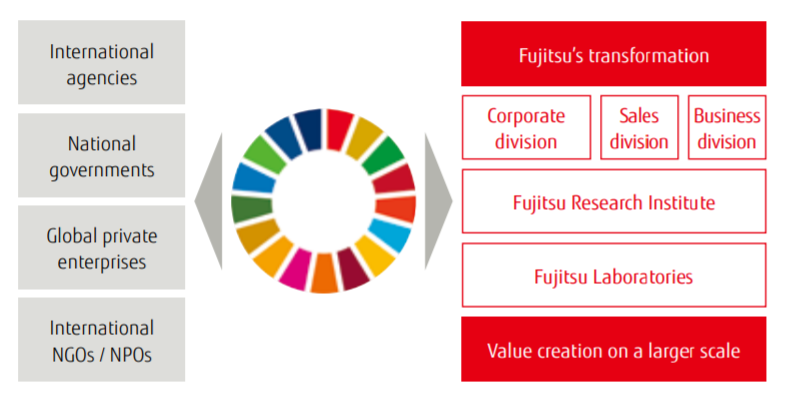 The ambitions set out in the SDGs are a central element of our annual Fujitsu Forum. This included discussions with experts on what Japanese and global organizations need to do to contribute to achieving the SDGs and realize sustainable growth as members of global society. We have also held in-house seminars for employees to better understand the SDGs and put their concepts into practice. This video summarizes Fujitsu approach to achieving the SDGs through ICT.
More information:
Integrated report, Fujitsu Technology and Service Vision, Sustainability Report, Project to Reduce Damages due to Disasters