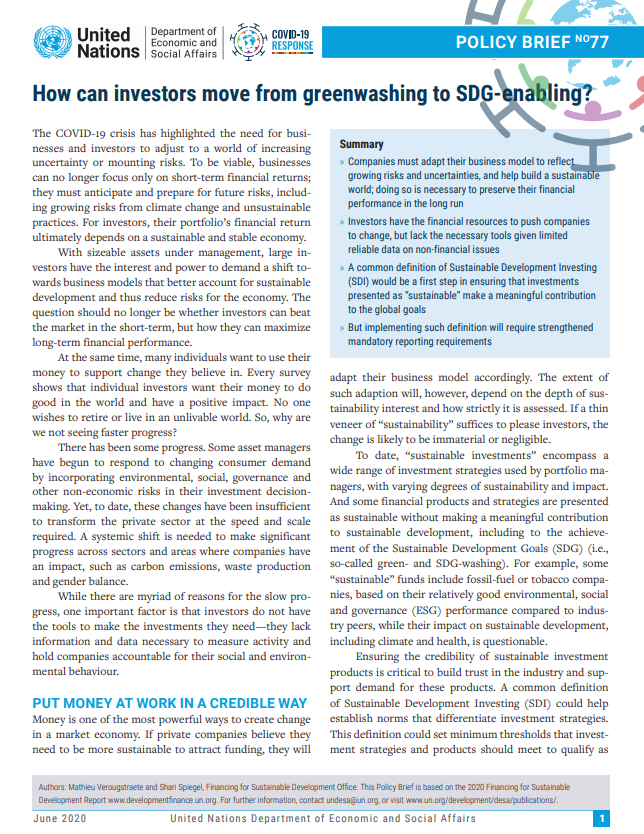 UN/DESA Policy Brief #77: How can investors move from greenwashing to SDG-enabling?
Who's behind it? – UN Department of Social Affairs (DESA)
How can it help? – UNDESA's policy brief no. 77 makes the case for a common definition of sustainable development investment (SDI). The brief is part of a series aimed at helping policy makers facing difficult choices during the COVID-19 pandemic. The series has also addressed the impacts of the pandemic on youth, older persons, persons with disabilities, and indigenous peoples, and how it is affecting physical activity and wellbeing; and accountability at the national level and the relationships between States and people, among other topics.A shared understanding could help ensure a meaningful contribution to the SDGs and hold companies accountable for the social and environmental behavior, the authors argue.
In this policy brief, authors recommend that: 
Companies must adapt their business model to reflect growing risks and uncertainties, and help build a sustainable world; doing so is necessary to preserve their financial performance in the long run
Investors have the financial resources to push companies to change, but lack the necessary tools given limited reliable data on non-financial issues
A common definition of Sustainable Development Investing (SDI) would be a first step in ensuring that investments presented as "sustainable" make a meaningful contribution to the global goals
But implementing such definition will require strengthened mandatory reporting requirements