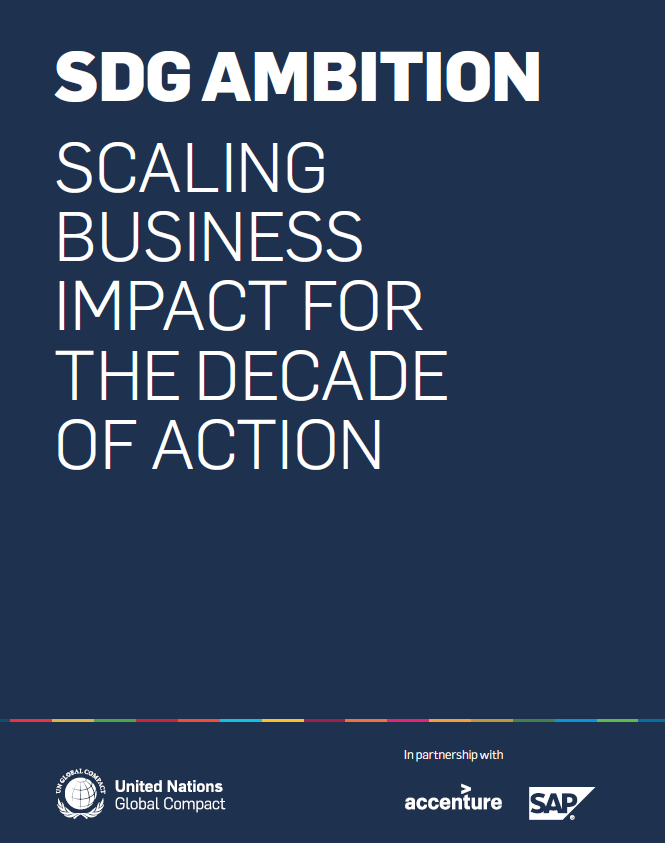 Who's behind it? – UN Global Compact, Accenture, SAP & 3M
How can it help? – The UN Global Impact released the SDG Ambition guides to mobilize industry around SDG Ambition and scale impact for the 17 sustainable development goals. The guides call for the world's leading companies to set more ambitious targets on creating solutions for sustainability and advance the integration of the SDGs into core business systems and reporting.
Integration Guide: Designing Business Systems for the SDGs
The Integration Guide presents the approach through which the ten SDG Ambition benchmarks can be integrated into core business processes and systems to enable effective measurement & management of sustainability performance. Business leaders can use this publication to identify the system opportunities to integrate the SDGs into core business processes.
Ambition Guide: Setting Goals for the Decade of Action
The Ambition Guide establishes the initial set of SDG Ambition benchmarks that challenge organizations to set more ambitious goals and targets in the areas in which business is positioned to have a substantial impact. Business leaders can use this document to support their strategy and set goals ambitious enough to deliver the SDGs by 2030.
Learn more about SDG Ambition here.