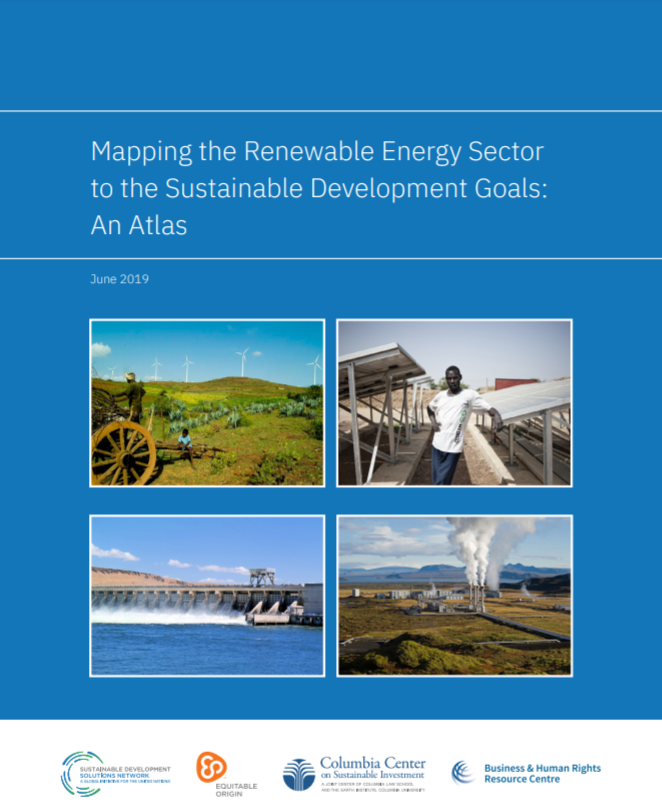 Mapping the Renewable Energy Sector to the Sustainable Development Goals: An Atlas
Who's behind it? – CCSI, Equitable Origin, Business & Human Rights Resource Centre, UN SDSN 
How can it help? – Given the urgency and scale at which renewables must be deployed to meet the world's sustainable development and climate goals, it is critical that the industry understands the full range of its potential opportunities and impacts on all of the SDGs.
In addition to core contributions to SDG 7, which focuses on access to affordable, reliable, sustainable and modern energy for all, and SDG 13, on urgent action to combat climate change, the renewable energy sector can also make critical contributions to the other 15 SDGs, including helping to alleviate poverty, fight hunger, increase access to healthcare, education, and clean water, and protect life on land and in water.
This Atlas serves as a guide for renewable energy companies to maximize contributions to all SDGs, with specific actions recommended for each goal to help build responsible and human rights-respecting practices into core business operations and to collaborate with other stakeholders, including affected communities, peer companies, and governments to amplify impact.