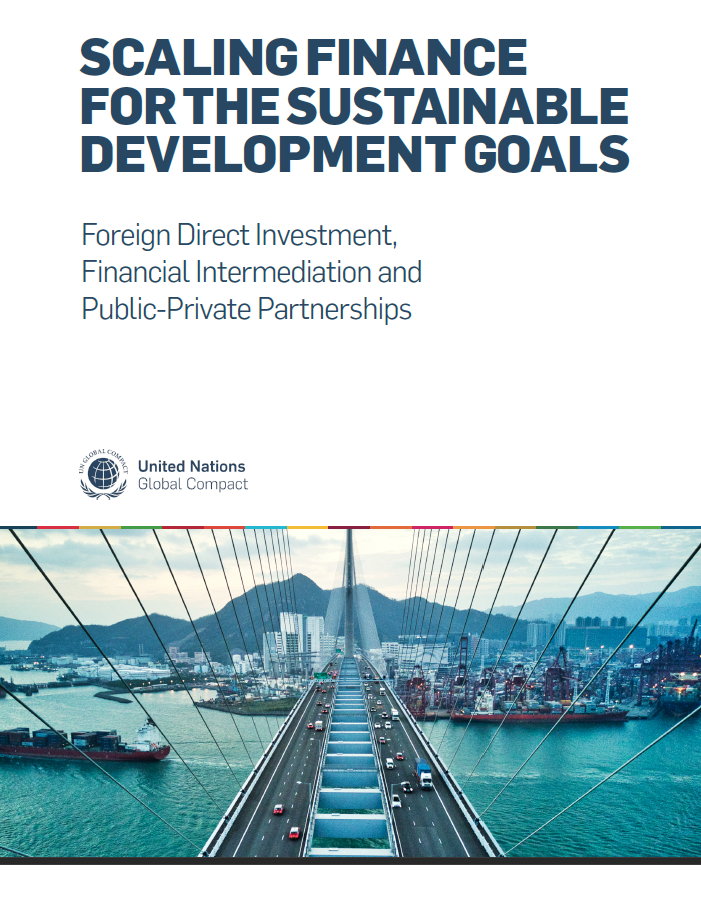 Scaling Finance for The Sustainable Development Goals: Foreign Direct Investment, Financial Intermediation and Public-Private Partnerships
Who's behind it? – UN Global Compact
How can it help? – The report "Scaling Finance for the Sustainable Development Goals (SDGs)" outlines how corporate and financial intermediation, including foreign direct investment, can help bring to scale the private finance directed towards advancing the Global Goals.
The report first explores specific types of financial intermediation that have the potential to scale SDG finance in key areas:
Providing access to finance in countries with less developed financial markets or for SDG solutions that are too small or illiquid to attract portfolio investors
Linking global capital markets to companies, projects and individuals that cannot directly access these markets
Leveraging the intermediation process to maximize the impact of downstream investments — for example, by ensuring sustainable practices of subsidiary businesses or by focusing on certain geographies, populations, or activities
The report then addresses the role of public-private partnerships in SDG finance to support activities that cannot be financed on a purely commercial basis and therefore require some form of public support to benefit from private investments.
The new report completes a series of three publications that help companies identify practical solutions for scaling up their positive impact on the SDGs through sustainable financing. The previous publications focused on SDG bonds and corporate finance.